Roger Moore Reflects on For Your Eyes Only
Posted December 16th, 2011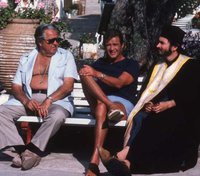 There's an interesting article in The Telegraph, with Roger Moore reflecting on the filming of For Your Eyes Only, his fifth outing as Bond in 1981. Roger discusses how games of backgammon between himself and producer Cubby Broccoli could keep the crew waiting, and an interesting revelation about Q's role as the bearded priest.
"It is unusual to see a picture of the producer Cubby Broccoli and me on set without a backgammon board in front of us. We used to play during all the breaks from shooting and the directors always had a terrible job getting me back into the set when we were in the middle of a game; if Cubby was winning he absolutely would not let me go."
"We played for money and kept a book to mark down the hundreds of thousands we ran up. On the last day of shooting we'd settle up and by then things had usually evened out, so it might end being only two or three thousand dollars that one of us had to pay. And we always paid -- I would have killed Cubby if he hadn't."
"Cubby's stepson, the executive producer and Bond screenwriter Michael G Wilson, is sitting on my left. He is in costume for his bit-part as a Greek Orthodox priest. He often used to have a little Hitchcock-like walk across in Bond films. It looks as if this was taken just before he was called to the set. They must have been filming an establishing shot that I wasn't in because I certainly wasn't playing Bond wearing that T-shirt and shorts."
"In a way this is a very sad photograph for me. It brings to mind the scene in For Your Eyes Only where Bond meets another bearded priest, who was in fact Q, played by Desmond Llewelyn, in disguise. Originally Bernie Lee's character M was going to play that priest, but poor Bernie, who had played M for the first 11 Bond films, was ill with cancer and had a lot of problems so couldn't do it -- he died while we were still filming and M was written out of the film."
Read the full article at the Telegraph.
Prev/Next
«
Daniel Craig's Girl with the Dragon Tattoo is a Hit
More Rumors of Naomie Harris Playing Miss Moneypenny
»