Michael Wilson and Barbara Broccoli Discuss Cubby
Posted April 10th, 2009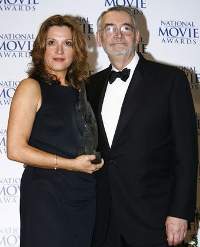 With the British Film Institute currently celebrating the centenary of Bond Producer Cubby Broccoli, The Guardian has been able to get an interview with current Bond producers Barbara Broccoli and Michael Wilson, Cubby's daughter and step son.
The interview was conducted at Eon House in Piccadilly, London, the HQ of Eon Productions. It was part of the Film Weekly podcasts with Jason Solomons. Jason started off the conversation by discussing the legacy of their father.
"Oh, definitely," said Barbara. "I mean, Cubby Broccoli, my father, was an extraordinary man and he assembled with Dr. No the most astounding group of talent with directors and craftsmen and created with his partner Harry Saltzman a new genre of films."
They then talked about Cubby's unique role as a producer, which is usually not as well defined as say the director, or screenwriter. Wilson replied:
"Well, he was a creative producer. And there are a few, but sadly not as many today as there used to be. He was someone who was very involved in the creation of the script and the selecting of the major crew, you know, the director and the major heads of department. And he would like to sit on the set and be there in case anything needed his attention. He just loved making films. It was his life."
It's an interesting interview. Barbara reflects her childhood visits to pinewood after school every week, saying "it's just like a trip to Grandma's". She then discusses how she often thinks of her father when making crucial decisions, remembering how important it is to listen to everyone and compile enough information before deciding on anything.
Another interesting piece of trivia comes along--did you know that Barbara's favourite Connery film was From Russia with Love? Good choice. A discussion of Chitty Chitty Bang Bang then ensues. It was apparently written because Ian Fleming's son said "Dad, I think you love James Bond more than me!"
They conclude with the usual "No updates on Bond 23" statement, but we know it will come sooner or later. It's a great listen, so check out the Podcast and enjoy. It's a 30 minute feature, but Bond only takes up the first 8 minutes.
Prev/Next
«
James Bond Celebrations at BFI
The Blofeld Trilogy to be Compiled into One Book
»