James Bond Celebrations at BFI
Posted April 10th, 2009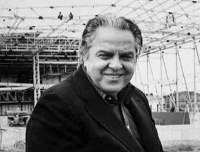 The BFI, or British Film Institute is hosting a magnitude of celebrations to mark the Centenary of Cubby Broccoli, the key James Bond Producer.
There will be a large Film Programme, including Casino Royale, Chitty Chitty Bang Bang, Diamonds Are Forever, Dr No, From Russia With Love, Goldfinger, The Red Beret, and more.
There will also be a "Bond School" for kids. "Calling all Young 007s! During the Easter holidays we'll be running a training school at BFI Southbank for any prospective secret agents, aged 10+. Learn how the stunt masters make Bond fights look real, editors cut trailers, music is composed and scripts are developed and storyboarded-- then try it out yourself!"
These are just a few of the many festive activities to come. See the BFI Cubby Broccoli website for more information. It lists the upcoming events in the program, and has a nice selection of images from Cubby's films.
Prev/Next
«
Kurylenko and Arterton May Make 100 Sexiest Women List
Michael Wilson and Barbara Broccoli Discuss Cubby
»