Bring Sean Connery into your Bathroom
Posted July 26th, 2010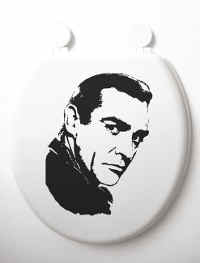 Today we have an interview with Tom Milton, who provides a very unique and unusual hand-made product. James Bond will no longer just be a part of the living room surround sound--now you can have Sean Connery in your bathroom!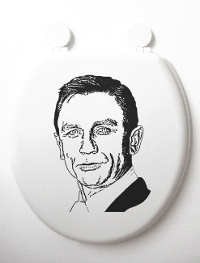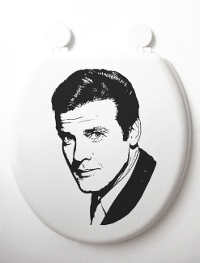 So if I'm correct your website provides personalised toilet seats.
Tom: Yeah. Located at www.sit-on-your-face.co.uk, we provide bespoke hand painted toilet seats with images of the customers choice. For example, as the name suggests, if you as a customer provide me with an image of yourself, I will then adapt it into a usable design and give it back to you for your thoughts and confirmation to proceed. Following this, I hand paint the image on to a brand new toilet seat, and ship it to you. I always aim for the whole process to take no more than a week.
Having looked at your website I see that it's not only people's own faces you do?
Tom: Exactly, that's the idea behind it, but they also make great gifts. So having one done for a friend or family member for a new house or even as a wedding present goes down really well. It's turned into my stock or default wedding gift that I give now. There is actually an example on the website of two of my friends (Anna and Mark) and the seat I painted for their wedding.
But looking at your website you also seem to paint seats based upon various famous faces.
Tom: Yeah, I've been doing this for a few years now, and when I put the website up I realised that showing designs of the people in my life is not the most effective way of sharing what I can do. The use of celebrity faces allows other people viewing the site to see what I do relevant to something that they can relate with, whether that be a film star, musician, or sporting personality. People viewing the site are giving a much more positive reaction as they can see examples of things they already like. I don't think it's just about showing a comparison to an original image but also capturing peoples imaginations. I think if you can tell who the image is of without the comparison photo, then it's a greater testament to the product and hopefully to job I've done.
And how exactly did this very unique idea start?
Tom: Alcohol. I was going to a housewarming party with a friend and we hadn't got anything as a present. After already having a few and stocking up with more we looked around the supermarket we were in and I found a toilet seat and some markers, with the plan to draw something witty on it as the night went on. As more alcohol was consumed this didn't work very well, as you can imagine. However I kept hold of the idea and when the friends moved house and had a housewarming I painted Tom Cruise as Maverick from Top Gun as part of a running joke. That was the first one I ever did (and it's on the website). Since then it has expanded with birthdays and weddings and with enough forceful pestering from my friends I built the site and it's now there for everyone to see, enjoy and hopefully purchase.
So how are they made, as you said earlier they are hand painted?
Tom: Yes, as I said before I provide a brand new toilet seat, usually a laminated wooden one. The lamination gives a crisp flat coloured base to paint on and the wood so it's not to cold for those middle of the night trips to the lavatory during the winter. The chosen design is then hand painted by myself in enamel paint. Using enamel provides not only a nice glossy finish but more importantly a hardy and waterproof one, allowing it to be then used as a toilet seat without concern to damaging the image.
How much are they and how do people get in touch with you if interested?
Tom: Contact is best via the website using the relevant email addresses, and as for cost each seat is a flat rate of £90. this includes any image the customer may choose or provide, the cost of the seat itself as well as it's production and also secure and insured delivery to guarantee the best possible service.
Are you finding any preference in the designs you have on the site?
Tom: There is a definite preference towards the famous faces rather than customers providing their own images at this time. But I think that this is the times we live in where more people wish to tap into popular culture or the cult with their purchases. And also I think you need to be a fairly confident individual to have your own face on your toilet. As for from one celebrity to another it's difficult to say. I've aimed to provide as broad a spectrum of characters as possible, but I would probably say there has been a greater interest in classic icons rather than current individuals, the likes of Audrey Hepburn or Elvis or even James Bond.
Bringing us on nicely to the relevance regarding our website. Why Bond? And why the Bonds you've chosen?
Tom: As I said I was aiming for iconic examples for everyone to recognise. and you don't get much more iconic than Bond. The original design was of Sean Connery as he's just cool, simple as that. I've then expanded to include Roger Moore (as the other major Bond) and Daniel Craig (to be relevant now).
So who is your favourite James Bond?
Tom: Sean Connery, no one else even comes close. He's just too cool, smooth and stylish and everything he did seemed to be done without effort. That moment in Dr. No when he introduces himself with the cigarette hanging from his mouth is just perfect. Although I did enjoy Pierce Brosnan's performances, especially in Goldeneye. In think he was well suited to the character but was given very poor material as the films went on. I'm also enjoying where Daniel Craig is going (depending on MGM) with his portrayal, very visceral and much closer to the Bond from the books.
Favourite film?
Tom: Early Connery era, something like From Russia With Love. I really like the paired down nature of the film especially the fight scene in the train room. Showing Bond at his best without an overload on the gadgets or spectacle and as a result have much more gravitas. I like the similar nature found in both Casino Royale and Quantum of Solace. And as said before Goldeneye is a personal favourite, as well as being a good film its probably because it was my first Bond film that i saw at the cinema.
You can order your own hand painted toilet seat from sit-on-your-face. Please note that this post is a sponsored product endorsement--but hey, it's a great hand-made product either way.
Prev/Next
«
Limited Edition Replica Golden Guns to be Released
Carte Blanche Released in the US
»