Carte Blanche Released in the US
Posted July 3rd, 2011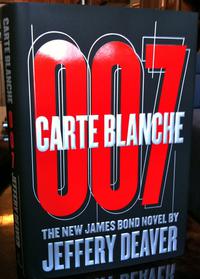 The new James Bond novel Carte Blache, written by Jeffery Deaver, has now been published in America by small New York publisher Simon and Schuster. The book retails at $29.99 in the US and Canada, and comes with a much less subtle cover than it's UK counterpart, with the 007 letters dominating the books image.
Carte Blanche was published by Hodder and Stoughton in the UK, a few days before Fleming's birthday, on 26th May 2011. It had been commissioned by Ian Fleming Publications Ltd, after Deaver had acknowledged his life-long admiration of Fleming's writing during his acceptance speech for an award at the Crime Writers' Association.
Like Fleming, Jeffery Deaver takes inspiration from exotic locations around the world, and after visiting Dubai for the Emirates Airline Festival of Literature last year, he decided to set part of Carte Blanche in the United Arab Emirates City.
Jeffery Deaver comments, "I'm really excited about being back in Dubai. It is an inspirational and awe-inspiring city and makes a perfect Bond location—especially for a novel that pushes our hero to new extremes."
Regarding the book's title, Deaver added, "In the world of espionage, giving an agent carte blanche on a mission comes with an enormous amount of trust and constantly tests both personal and professional judgement. Part of the nonstop suspense in the novel is the looming question of what is acceptable in matters of national and international security. Are there lines that even James Bond should not cross?"
Unlike the most recent James Bond book, Sebastian Faulks' period piece Devil May Care, Jeffery Deaver's Bond is given a contemporary setting that encompasses Deira and Port Saeed, and the history of the Emirates provides an exciting backdrop for some heart-stopping action.
Bond is renowned for visiting the most exotic and glamorous of cities and this is the first time Dubai has featured in a James Bond novel.
Jeffery Deaver has written 28 novels and sold more than 20 million books worldwide. He is best known for his Kathryn Dance and Lincoln Rhyme books, most notably The Bone Collector, which was adapted for film in 1999, starring Denzel Washington and Angelina Jolie. Before becoming a full-time author, Deaver was a journalist, like Fleming, and attorney. He started writing suspense novels on the long commute to and from his office on Wall Street. His books are now translated into 25 languages and he lives in North Carolina.
Prev/Next
«
Bring Sean Connery into your Bathroom
Bond 23: Skyfall in Production
»