James Bond Character - Miss Taro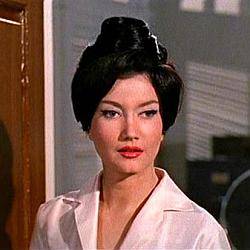 About
| | |
| --- | --- |
| Age | 43 |
| Ethnicity | English |
| Role | Bond Girl, Villain |
| Status | Alive (Arrested) |
Summary
Miss Taro (played by Zena Marshall) appeared in the 1962 Bond movie Dr. No. She worked as a secretary for Pleydell-Smith, the principal secretary of Jamaica, as well as being a spy for Dr. No. She alerted him of Bond's arrival, and stole several incriminating files. Bond discovered who she was and she was later arrested.
| | | | |
| --- | --- | --- | --- |
| Played by | Zena Marshall | Appears in | Dr. No (1962) |
The Character in the Movie
In the 1962 James Bond movie Dr. No, Miss Taro worked as a secretary for Pleydell-Smith at Government house in Kingston, Jamaica. She also worked for Dr. No and reported to him that James Bond was coming over to investigate the death of John Strangways, the head of station in Jamaica. Bond was the only one who realized her connection with Dr. No and he even caught her spying on a conversation through a keyhole.
Miss Taro invited Bond to her house for dinner, something that didn't happen in the novel. It was, of course, a trap and three of Dr. No's henchmen came after bond in a hearse. Bond managed to loose them, sending them flying down a cliff, and drove on to Miss Taro's house. She was surprised to see him and soon after got a call from another of Dr. No's henchmen Professor Dent. Miss Taro said that Bond was there and she was told to keep him there so he could be assassinated later on.
She kept Bond there and said she would make a Chinese. Bond lied, saying he fancied something else and that he would call a cab. He had actually called Government House and when Miss Taro got in the car, she realized she was being arrested and spat in Bond's face. Bond stayed to wait for Professor Dent and Miss Taro was presumably sent to jail or to be interrogated.
The Character in the Book
Miss Taro is a fictional character who appeared in Ian Fleming's novel Dr. No, published in 1958. She was a Chinese woman who worked in Jamaica as a secretary for Pleydell-Smith, who in turn worked for the British Secret Service as Principal Secretary at Government House in Kingston, Jamaica.
Off the coast of Jamaica was a small island named Crab Key. It was owned by Dr. No, who was using a powerful radio beam to takeover the guidance systems of USA test missiles so he could crash land them. Miss Taro reported back any information that may concern him or his island. She looked through Bond's file and reported that a British Spy was coming to Investigate. Bond discovered this when he found his folder open on her desk. She also stole the files on Crab Key to deter anyone from investigating. Unlike the movie, Miss Taro doesn't appear again after Bond's meeting with Pleydell-Smith.
Additional Images