James Bond Character - Honey Ryder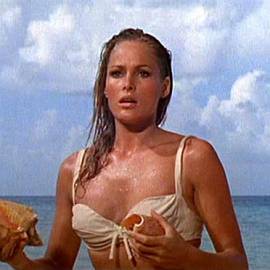 About
| | |
| --- | --- |
| Age | 20 |
| Role | Bond Girl, Allie |
| Status | Alive |
Summary
Honey Ryder (Spelt Rider in the novel) was the leading Bond girl in Dr. No (1962). She was played by Ursula Andress, however due to her strong accent she was dubbed by Nikki van der Zyl. She was diving for shells at Crab Key when Bond first saw her. The character is famous for her entry to the movie, walking out of the sea in a white bikini.
The Character in the Movie
Honey Ryder was the leading Bond girl in Dr. No (1962). She was played by Ursula Andress, however due to her strong accent she was dubbed by Nikki van der Zyl. Earlier on in her life she travelled all around the Caribbean with her father, a marine biologist, studying the plants and fish in the many corals they visited. Her father died mysteriously when visiting crab key, an island just of the coast of Jamaica, although Honey knew it was no accident. Dr. No's men had killed him.
After her father died and she had no one left to protect her, her landlord raped her. She didn't let this go unpunished however and one night when he was asleep, she put a black widow spider under his mosquito net. It took him a whole week to die. Since her fathers death she lived alone and collected rare shells to make money. She seemed to be able to defend herself and she wasn't scared of Bond when she first met him. However she was scared when the diesel dragon came after them and Dr. No's men captured her and Bond.
Later on, Honey was tied down near and the slowly rising water level would have drowned her, but Bond escaped and rescued her. Bond and Honey ran out of the place and stole a boat in which they drifted off into the sea, finally alone.
The character in the book
In Ian Fleming's novel Dr. No (1958), Honeychile Rider was a girl who had lived in a large house in the middle of a sugar cane field in the Beau Desert on the North coast near Morgan's harbour. When she was five, her parents were killed in a fire that burned down their home. After that, she lived in the cellars of the ruin's with her black nanny. Once when the cane was harvested, some of the snakes, scorpions and other animals who had lost their homes, came into the ruins and after a while they became like family to Honey, who fed them and looked after them. They would leave when the cane grew back and return to her when it was harvested again.
When she was 15, her nanny died and she was left to fend for herself. A man named Mander, who owned the cane field came into the ruins drunk one day. Honey tried to stab him, but he was too strong. He punched her, knocking her out and breaking her nose and then raped her. Honey got her revenge by putting a black widow spider in his bed one night when he was sleeping.
When she was eight, her nanny had found an encyclopedia among the ruins and Honey started at A. When she got to S at around age 18, she saw that some people sell shell's for a living. She used the only money she had to subscribe to a magazine and collected the shell's people were looking for. After she realized pretty shell's were not always the most valuable, she started collecting rare ones and made some money.
She started going to crab key and she found some rare shell's that she got $5 each for. She worked out that she could pay for an operation to get her nose fixed in New York in just five years. She was at Crab Key, diving for shells when Bond first saw her. She was naked besides a leather belt with a hunting knife on her right hip and a green diving mask. She looked strong and muscular and had a wide mouth, deep blue eyes and blond hair. When Dr. No's men come with dogs to search for them, she reveals that she has escaped them many times and suggests hiding underwater, using bamboo sticks to breath.
Her and bond were later captured, and Honey was tied to some rocks where she would eventually be eaten by crabs. She didn't die however, and managed to escape and meet up with Bond. She then left the island with him and they went together to New York where Bond payed for her nose operation.
Honey was a very independent girl who had never been out of Jamaica. She only knew a world of nature before meeting Bond.
Trivia and References to Honey Ryder
In the 2001 James Bond movie Die Another Day, the leading Bond girl Jinx (played by Halle Berry) had a similar entrance to that of Honey Rider, walking out of the sea in a bikini, although in an orange bikini this time.
In the music video for her song Honey, Mariah Carey mimics the scene where Honey walks out of the water in a bikini.
Additional Images