Stromberg's Spider-Shaped Floating Island a Reality
Posted November 30th, 2011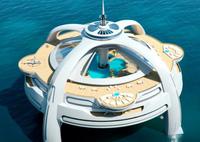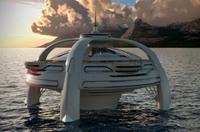 Stromberg's floating island/hideout from The Spy Who Loved Me has just become a reality. Project Utopia, the latest creation from Yacht Island Designs, features an 11 deck spider-shaped floating luxary home. It has the equivilent floorspace of a cruise liner, and can travel at 16 knots.
Gizmag reports that Project Utopia has more in common with an oil rig than it does with a yacht, and in the word's of the consultancy, "breaks the traditional naval architectural mould which the market has come to expect and offers a truly unique outlook free from any conventional design constraints."
There's no doubt that this was inspired by Stromberg's Atlantis lair, shown below. The four legged platform is stable, and designed for minimum motion even in the most extreme sea conditions. Each leg supports a fully azimuthing thruster and with four such units, the design can redeploy between desired locations at slow speed.
Some of these utopias may be used for exotic retail districts with high class restaurants, casinos or retail malls. Or a rich James Bond fan could hire Jaws and add in a shark tank.
See the full article at Gizmag.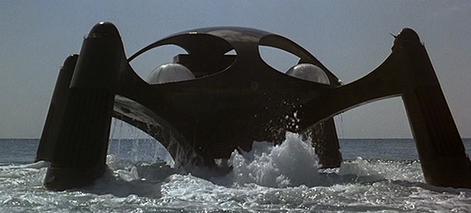 Prev/Next
«
Naomie Harris Discusses Her Role as Eve in Skyfall
Daniel Craig's James Bond Would Have Killed Roger Moore
»