Quantum of Solace Nominated for Saturn Awards
Posted March 17th, 2009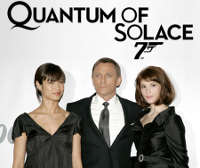 Quantum Of Solace has been nominated for Best Action/Adventure/Thriller Film at the Saturn Awards, alongside The Dark Knight, Traitor and Gran Torino, among others.
Actresses Judi Dench and Olga Kurylenko have also been nominated for Best Supporting Actress. You can find out more online at The Saturn Awards.
The Saturn Awards is a non profit organization that was founded in 1972. They are run by The Academy of Science Fiction Fantasy & Horror Films. But don't let the name put you off, they have expanded much beyond their original scope.
I certainly hope they win. The Bond films have a history of being rejected by many award organizations, especially the Oscars. Despite there worldwide acclaim and huge fan base, the Bond films have been very underrated on the awards front in the past.
The Saturn Awards committee has shone some light on Bond before before though, naming Pierce Brosnan Best Actor in Tomorrow Never Dies and calling Casino Royale the Best Action Film of the year. Good luck all aronud.
Prev/Next
«
License to Kill, TMWTGG Blu-ray Cover Art Released
Jennifer Aniston Rumored to be in Line for the Next Bond girl
»