Michael Wilson Discusses his Favourite Bonds
Posted April 20th, 2009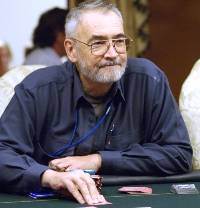 Michael Wilson recently had an interview with the Yorkshire Post, discussing, among other things, his favourite Bond films through each generation.
Wilson commented on Bonds enduring appeal: "There are a lot of other characters like Tarzan, Superman and Batman who have been reinvented over the years, but in terms of a single production entity then yes I guess James Bond is unique. But you know there has never been a moment when we've sat back and thought that's it, this will run and run. I don't even believe that now."
Michael G Wilson's cameo appearances in every Bond film since 1977 have become part of 007 tradition and as producer it is the kind of perk of the job which is just good to turn down.
"It's started out as a joke," he says having recently completed his latest role as man reading newspaper in hotel lobby in Quantum of Solace. "Now it's become a tradition to the point where some people think it's to do with good luck."
Ever the diplomat, Wilson also knows better than to admit he has a favourite Bond.
"Honestly I don't, but for each of the actors who have played 007 I do have a favourite film," he says. "In From Russia With Love and Goldfinger Sean really established the whole spy genre. George Lazenby may have only done one film, but On Her Majesty's Secret Service was the best Flemming story. The Spy Who Loved Me with Roger was the first one I properly worked on and I think it showed him at his best. Then there's Living Daylights for Timothy and GoldenEye was Pierce's best.
"Daniel has yet to complete his time as Bond, but at the moment Casino Royale is my favourite of his so far."
Good read, check it out at the Yorkshire Post, video interview also available.
Prev/Next
«
Downloadable Content for Quantum of Solace Game
MI5 Looking for a Real Life Q
»