James Bond Producers to make the film Remote Control
Posted April 15th, 2009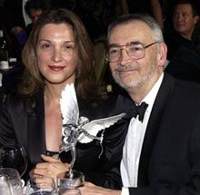 Bond Producers Michael Wilson and Barbara Broccoli have teamed up with Sony to make the film Remote Control, a thriller based on a novel by Mark Burnell.
Interestingly enough, this will be only the 2nd non-bond film made by EON Productions, the first being Call Me Bwana, released in 1963. EON has reportedly signed a 15 film contract with Columbia Pictures, in an attempt to establish British writers in America.
The press release follows.
Building on their successful collaboration on the two most recent and highest grossing James Bond adventures in the history of the franchise, Sony Pictures Entertainment has acquired the motion picture rights to Remote Control, a thriller novel by Mark Burnell, to be produced as a feature film by Michael G. Wilson and Barbara Broccoli's Eon Productions, it was announced today by Doug Belgrad and Matt Tolmach, presidents of Columbia Pictures. Ileen Maisel will join Wilson and Broccoli in producing the project. Burnell will adapt his novel into the screenplay.

In Remote Control, a former war correspondent, now British corporate intelligence analyst, gets caught up in a conspiracy by Western corporations to destabilize the Chinese economy. Following the trail to the United States, he discovers that his former lover is also being pursued. On the run together, they try to unravel the mystery of the conspiracy while trying to stay alive.

Remote Control is the second non-Bond property Sony Pictures is developing with Wilson and Broccoli. The studio is also collaborating with the renowned producers on a new adaptation of Chitty Chitty Bang Bang with EON Productions and MGM.

Commenting on the announcement, Belgrad explains, "Our collaboration with Michael and Barbara on Casino Royale and Quantum of Solace was extraordinary and special and we all wanted to find another way to work together. Mark Burnell's new novel is an exciting thriller and it's precisely the kind of material that Michael and Barbara will be able to adapt so well."

Wilson and Broccoli added, "We have great respect and a wonderful working relationship with the entire team at Sony Pictures, from Amy, Doug, and Matt's team in production to Jeff Blake's global marketing and distribution groups and look forward to working with them all again." Remote Control will be overseen at Columbia Pictures by Belgrad and Elizabeth Cantillon.
Prev/Next
«
The Blofeld Trilogy to be Compiled into One Book
Judi Dench to be included in the Actors Hall of Fame
»