Judi Dench to be included in the Actors Hall of Fame
Posted April 16th, 2009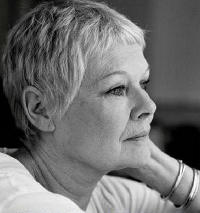 Judi Dench has been chosen as one of this years fifteen inductees to the Actors Hall of Fame, joining others like Humphrey Bogart, Fred Astaire, Charles Chaplin and many others that have been honored in the past.
The other upcoming inductees includes Robert De Niro, Robert Duvall, Kirk Douglas, Morgan Freeman, Gene Hackman, Olivia de Havilland, Hal Holbrook, Anthony Hopkins, James Earl Jones, Angela Lansbury, William H. Macy and Maggie Smith.
The Actors Hall of Fame honors career achievement in theater, film and television. Criteria for nomination include peer recognition and awards, humanitarian contribution to the dramatic arts and education and a demonstrated advancement of the craft of acting.
Honorees are voted for by members of the Actors Hall of Fame's board of electors, who are dramatic arts educators representing more than 100 accredited colleges and universities. An induction ceremony and celebration will take place this year in Los Angeles.
Prev/Next
«
James Bond Producers to make the film Remote Control
Cover Art Released for The Blofeld Trilogy
»