James Bond Ian Fleming Collection In Large Print
Posted May 13th, 2009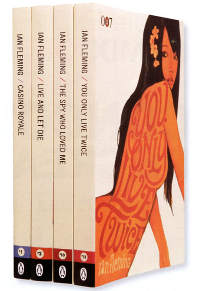 Ian Fleming's thirteen James Bond Novels and short story collections, from Casino Royale through Octopussy and The Living Daylights, were re-released in Large Print in July of last year with beautiful covers. I found the link through fellow Bond site Commanderbond.net, and was amazed at the stylistic, but clean designs.
Check out this blog post for all the covers. They really are quite well done, and unlike a lot of other issues, the covers have the same overall style and fit together well, while still offering varying and interesting designs.
Artist Michael Gillette had a few tales about their creation:
Well, the format was very restrictive, but within that I had a fair bit of freedom. Occasionally there was a specific instruction, but not too often. The Bond Estate won't allow nudity, so that's why there are so many backs! No nipples for sure. Penguin and Jon were very supportive of the way I took it.

The directive of the covers was to keep them filmic - they obviously reference the classic 60s/70s cinematic Bond rather than the 50's literary Bond. I'm aware that there is quite a difference. The films are foremost in people's perceptions of Bond, so it's understandable that Penguin would want something that will bring filmgoers to the books.
Be sure to check out the blog post, On Her Majesty's Secret Service and The Man with the Golden Gun have particularly pleasing covers.
Prev/Next
«
Daniel Craig: I'll keep doing Bond until my knees go
Final Cover Art Revealed for The Girl Machine
»