Daniel Craig: I'll keep doing Bond until my knees go
Posted May 5th, 2009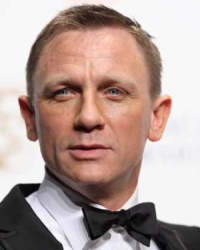 Daniel Craig recently had an interview with The Independent, where he discusses in length his intentions to stay with Bond.
Now Craig has been left with an interesting quandary: how does a respected actor -- who has worked with directors of the calibre of Steven Spielberg and Sam Mendes -- avoid being pigeonholed as 007? After Casino Royale, he delivered a three-pronged answer, delving into fantasy (The Golden Compass), sci-fi (The Invasion) and melodrama (Flashbacks of a Fool). Were it not for the fact that the first disappointed, the second was a dud and the third sank without trace, this might have been a good move. But Craig claims he's no career strategist. "I'm not looking for stuff that's the antithesis of a Bond movie just because I think that's what I should do," he says.

[Discussing Defiance]Craig gives an admirable performance -- his best since he began Bond. But try as I might, as soon as he picked up a gun in the opening scenes, I couldn't help but think of Bond brandishing a semi-automatic.

"Well, the thing is you're talking about movie language," says Craig, looking a little disgruntled at my rather simplistic observation. "There aren't that many fresh ideas out there. Hopefully, people will forget about that. I mean, I'm picking up a gun. I've done that a lot recently."

Outside of this, Craig's only plan for the foreseeable is to spend time with his family. "I don't see them for months, so I have to go back and reconnect with my normal life and make sure they still like me." As for Bond, he won't be drawn on the subject of how many he's prepared to make. "If people still want to see these movies I'll keep doing them for as long as it takes, or until my knees go, whichever happens quicker!"
It's a good read, check it out at The Independent.
Prev/Next
«
Roger Moore's Autobiography Released in Paperback Today
James Bond Ian Fleming Collection In Large Print
»