Final Cover Art Revealed for The Girl Machine
Posted May 15th, 2009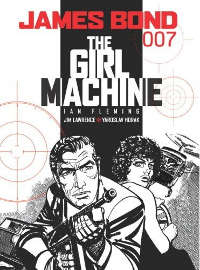 We announced last month that The Girl Machine James Bond comic collection had been delayed. We now know that the delay was caused by a last minute change in the cover art.
The Girl Machine hasn't been seen since it's original syndication in The Daily Express between June 19th and December 3rd of 1973. The collection includes the three stories The Girl Machine, The Nevsky Nude and Beware of Butterflies.
The stories for the comics were written by Jim Lawrence, who has been on the team for over 30 years. He started doing them in 1966 when he replaced several other authors, working from Ian Fleming originals. If you were to count all the separate stories he has written, you'd find that it is more than any other James Bond author in any field.
All the comics in this edition were drawn by Yaroslav Horak, who took over from John McLusky in 1966. He has drawn over 30 of the Bond comics, and is also widely known for creating The Mask, which was later made into a Jim Carey movie.
The release date is set to be July 21st, 2009 in the US, and July 24th in the UK, although these dates may change again.
The legend continues! Stand by for more adventures with the world's greatest and most famous secret agent, James Bond, as some of his most thrilling missions are collected for the first time ever in a deluxe collectors' library edition! This bumper action-packed volume collects ultra rare Bond stories that have not been seen since their original syndication between 1973-74: The Girl Machine, Beware of Butterflies and The Nevsky Nude. Plus a brand new celebrity introduction and an exclusive selection of recently unearthed James Bond comic strip artwork that has never before seen print, this latest essential volume is not to be missed!
Prev/Next
«
James Bond Ian Fleming Collection In Large Print
GoldenEye Voted #1 Film Based Video Game
»