Daniel Craig Quits the Role of James Bond
Posted April 1st, 2009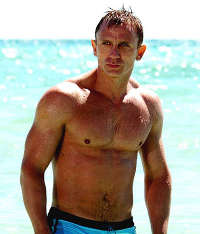 The Globe and Mail reports that Daniel Craig has quit the role of James Bond, after a heated argument with producers Michael Wilson and Barbara Broccoli. We called EON Productions, who confirmed the news, but refused to comment further on the situation.
We investigated further, and contacted a friend of ours who works at Pinewood Studios. She wishes to remain anonymous, but told us relations had been on a thin thread for quite a while, although she didn't know why. One thing she was sure of though, was that Daniel's decision was final.
Rumor has it that Pierce Brosnan was asked to come back for Bond 23, but he refused the role because of his age. Other possible candidates include Christopher Walken, Richard Branson and Noel Edmonds, but we have yet to receive a reply from there respective agents.
As always, keep checking back for the latest updates in James Bond News. If you stick around for another year, you might catch our next lame attempt at an april fools joke.
Prev/Next
«
James Bond Voted Best Hero
Devil May Care wins Popular Fiction Award
»