Devil May Care may get a Sainsbury's Popular Fiction Award
Posted March 11th, 2009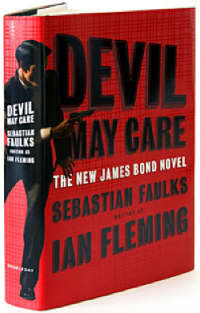 Devil May Care, the latest James Bond novel written by Sebastian Faulks last year to mark the 100th anniversary of Bond creator Ian Fleming, has been nominated for a Sainsbury's Popular Fiction Award.
The winner is to determined by online voting, which is open until Midnight on 28th March. The competitors in this category are:
Azincourt by Bernard Cornwell
The Outcast by Sadie Jones
Thanks for the Memories by Cecelia Ahern
Things I Want My Daughters to Know by Elizabeth Noble
This Charming Man by Marian Keyes
I haven't read Devil May Care yet, as I'm waiting for the paperback release. But if you've read it, you can vote online over at Book Marketing.
The winner will be announced on WatchTV at 8.00pm on Sunday 5th April 2009, or you can just Keep watching 007James.com for daily Bond news.
Prev/Next
«
Double or Die out in Paperback
Bregenz, Austria to open James Bond Museum
»