Bregenz, Austria to open James Bond Museum
Posted March 12th, 2009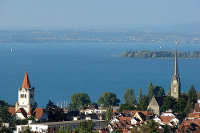 The Austrian town of Bregenz is planning to open a James Bond Museum, to mark their brief appearance in Quantum of Solace.
Local government officials say the museum will open in Bregenz on March 20th, 2009, to celebrate the location's links with 007. The museum will feature props from the shooting as well as pictures and fact sheets to hand out to visitors.
Organisers said they wanted to give museum-goers an intense - behind the scenes - experience of the film. One famous scene in the film involves the floating opera stage at Bregenz where Bond stalks his enemies during a performance of Tosca. The shot involved 1,500 extras.
But movie makers claimed the location was jinxed after a series of accidents on and off the set. In one incident a 58-year-old film technician survived a knife attack by a crazed woman who he met in a bar near the town.
Sounds interesting, although you may want to equip some kevlar before visiting the area.
Prev/Next
«
Devil May Care may get a Sainsbury's Popular Fiction Award
Roger Moore to read his autobiography on Radio 2
»