Designing 007: Fifty Years of Bond Style
Posted June 15th, 2012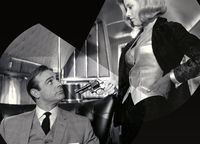 The Barbican Centre, a Grade II listed building that is the largest performing arts centre in Europe, is set to host an exhibition to celebrate the 50th anniversary of the James Bond series. Located in central London, the Barbican is known as the home of the London Symphony Orchestra and the BBC Symphony Orchestra.
The organisers are co-operating with EON productions, and have been allowed unprecedented access to the James Bond archives. The event will include John Stears designed gadgets and weapons from the films, as well as artwork and production storyboards. There will also be a costume display including names such as Armani, Brioni and Tom Ford.
The tickets cost £12 per person, with the event running from July 6th through September 5th, 2012. Due to the popularity of the event, the Barbican recommends booking in advance, as tickets will likely not be available at the door.
The Barbican marks the 50th anniversary of the James Bond franchise, from 1962's Dr No to this year's Skyfall, with a unique exhibition showcasing the inside story of the design and style of the world's most influential and iconic movie brand.

t will explore the craft behind the screen icons, the secret service and villains, tailoring and costumes, set and production design, automobiles, gadgets and special effects, graphic design and motion graphics, exotic locations, stunts and props.
Visit the event website to read more and book tickets.
Prev/Next
«
Audio Books of all the Ian Fleming James Bond Novels
Lindy Hemming Talks Bond Style
»