Audio Books of all the Ian Fleming James Bond Novels
Posted June 15th, 2012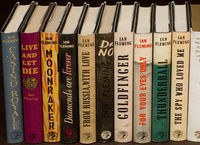 Ian Fleming Publications will be joining in with the 50th anniversary celebrations of the James Bond film series. This coming September, they will be launching an audio book series of all 12 original Ian Fleming novels, read by some notable British figures. As of yet, it doesn't look like Ian Fleming's two short story collections will be included.
Among the readers are Kenneth Branagh, who will be reading The Man With the Golden Gun, Toby Stephens, who will be reading From Russia With Love and Bill Nighly who will be reading Moonraker. The titles will be available for individual pre-order starting August 1st, and will be available via download or CD purchase from September 6th, 2012.
The full list of readers follows, with the novels presented in the order they were written.
Casino Royale read by Dan Stevens
Live and Let Die read by Rory Kinnear
Moonraker read by Bill Nighy
Diamonds Are Forever read by Damian Lewis
From Russia With Love read by Toby Stephens
Dr No read by Hugh Quarshie
Goldfinger read by Hugh Bonneville
Thunderball read by Jason Isaacs
The Spy Who Loved Me read by Rosamund Pike
On Her Majesty's Secret Service read by David Tennant
You Only Live Twice read by Martin Jarvis
The Man With the Golden Gun read by Kenneth Branagh
The project has been lead by Ian Fleming Publications director Enyd Williams, and Lucy Fleming, and has taken over three years to organise. AudioGO, previously known as BBC Audiobooks, is in charge of the technical side of things.
Prev/Next
«
Book Review: The Men Who Might Have Been Bond
Designing 007: Fifty Years of Bond Style
»