Daniel Craig Discusses Skyfall and Quantum of Solace
Posted December 7th, 2011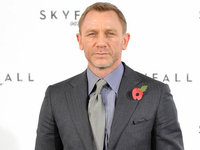 Dave Calhoun of Time Out London recently had a great interview with Daniel Craig. They discussed, among other things, the involvement of Skyfall director Sam Mendes, Craig's Tom Ford suits, his beginnings in film, and his increasing involvements in the scripts and behind the scenes aspects of James Bond.
The writing strikes of 2007-2008 caused problems with Quantum of Solace, and Daniel Craig and director Marc Forster ended up rewriting some of the scenes, because of a loophole in the rules about hiring writers.
You're about to start shooting the new Bond film. How do you feel about it? Is there a sense of 'Hell, here we go for the next seven months...' just because it's such a massive undertaking?
Yes, there's definitely some of that, but I'm genuinely really excited because we've got a script. The deciding factor for doing "Casino Royale", even though I was umming and aahhing, going "I donít know if I want to do it", was that they showed me the script and I thought: F**k, I've got to do this. And I think this one is better. I really do. Itís a totally original story. I read it and it just works as a story. It sounds like a simplistic thing to say, but you read it and you go: "Oh yeah, I get that, yeah, and oh, yes, yes, okay," and that's unusual.
It seems that the script is sometimes an after-thought on huge productions.
Yes and you swear that you'll never get involved with shit like that, and it happens. On Quantum, we were f**ked. We had the bare bones of a script and then there was a writers' strike and there was nothing we could do. We couldn't employ a writer to finish it. I say to myself, "Never again", but who knows? There was me trying to rewrite scenes -- and a writer I am not.
You had to rewrite scenes yourself?
Me and the director Marc Forster were the ones allowed to do it. The rules were that you couldn't employ anyone as a writer, but the actor and director could work on scenes together. We were stuffed. We got away with it, but only just. It was never meant to be as much of a sequel as it was, but it ended up being a sequel, starting where the last one finished.
It was still a massive commercial success though. So it wasn't a failure in that sense.
No, quite. Thank God it worked, and it worked like gangbusters. But for me personally, on a level of feeling satisfied, I would want to do better next time. That's really important to me.
An absolutely fantastic read, make sure you check out the full article.
Prev/Next
«
James Bond's New Watch to be Omega Planet Ocean
James Bond's Aston Martin DB5 is Back
»