Daniel Craig Biography Released on his Birthday
Posted March 2nd, 2009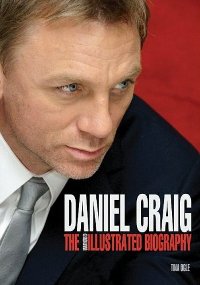 First of all, Happy Birthday Daniel, from all of us at 007James :). That's right, Daniel Craig turned 41 today, and a biography has been released to mark the occasion. Written by Tina Ogle, Daniel Craig: The Illustrated Biography is 160 pages long and has sold out on amazon in the UK already. The American release is around the corner on April 1st.
From the blurb:
Daniel Craig: The Illustrated Biography" looks at the life of this notoriously private actor, including his film and television appearances, his two-year marriage to Scottish actress Fiona Loudon (with whom he had a daughter, Ella) and his long-standing relationships with actress Heike Makatsch and film producer Satsuki Mitchell.From humble beginnings on the Wirral, Merseyside in England where his mother was an art teacher and his father was the landlord of the Ring o' Bells pub, Daniel Craig has worked long and hard for the high-profile career and international acclaim that are now his.

Leaving home at the age of sixteen to join the National Youth Theatre in London, Daniel studied at the Guildhall School of Music and Drama before landing a series of minor roles in British television series, including the swashbuckling "Sharpe's Eagle with Sean Bean". Daniel's first major break in a leading TV role came in the BBC TV series "Our Friends In The North" in 1996, when he was twenty-seven years old. Further TV work followed until he landed the role of Angelina Jolie's lover in the 2001 movie "Lara Croft: Tomb Raider".Establishing his Hollywood credentials, Daniel went on to appear in movies such as "Sword of Honour" and "Road To Perdition", leading to his first starring role in 2004 in the thriller, Layer Cake.

By now a movie veteran with more than a dozen film acting roles under his belt. Daniel would go on to appear in another handful of films before it became known, early in 2005, that he was to become the sixth official screen Bond in the twenty-first Bond movie, "Casino Royale". Although his appointment was controversial, heavily criticized by some Bond fans, his performance was widely praised. Having signed a multi-million dollar contract to appear in five Bond movies, Daniel will next appear, "Licensed to Kill" as 007, in the November 2008 release "Quantum of Solace". Daniel has other movie roles slated for 2009, including I Lucifer, before beginning work on the as yet untitled Bond 23.
Prev/Next
«
Pierce Brosnan Builds Gadget Laden Home
Danny Boyle Wanted as Bond 23 Director
»