Aston Martin DB5 Designer Dies
Posted March 15th, 2010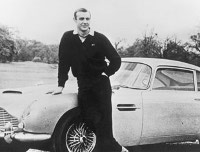 Harold Beach, the designer of one of the most famous and important cars in film history, the Aston Martin DB5, died late last month. His career in the industry spanned through Rolls Royce, Alfa Romeo, Bugatti, Bently, and reached its peak at Aston Martin. He worked his way up through chief designer, chief engineer and technical director.
In 1956 Beach designed the DB4 chassis that was the foundation for the Aston's super lightweight aluminum body. He designed many parts of the vehicle including the wing-side vents, that became an icon of Aston Martin designs. He also did road testing on his hour drive to work at the plant in Bukinghamshire.
The DB5 was essentially the 6th series of the DB4, with an upgraded engine. Its appearances in Goldfinger and Thunderball in the mid 60s launched it to international fame, winning continuous awards for the Best Car in the World. James Bond preferred Bentlys in the novels, although he did drive an Aston Martin DB Mark III in Goldfinger. Harold Beach had an involvement with both of these car makers, and is a legend in the industry.
The Australian has a great article on Harold Beach that is well worth reading:
Harold Henry Beach was born in Acton, West London, in 1913, and was privately educated before studying engineering at technical college. He began his career in the car industry in 1928 as an apprentice at the Rolls-Royce coachbuilder Barker in London. There he soon moved to the drawing office, an area that would prove to be his forte.

The Viscount Curzon, later Earl Howe, was a director of Barker and used its engineering department to prepare his racing cars. Beach worked on the Alfa Romeo 8C 2300 with which Howe and Sir Henry Birkin won the 1931 24 Hours of Le Mans. Other race cars included Howe's Delage and Bugatti, and two Mercedes owned by Howe and Sir Malcolm Campbell.
Prev/Next
«
Judi Dench to Write an Autobiography
Goldeneye 007 to be Remade for the Wii
»