Pierce Brosnan Turns 56
Posted May 17th, 2009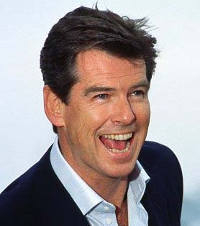 Happy Birthday Pierce! That's right, Pierce Brosnan has turned 56 today. Pierce played James Bond four times, in Goldeneye, Tomorrow Never Dies, The World is Not Enough and Die Another Day, and is the only Irish actor to have played 007 so far.
Pierce has had a wonderful and varied career, and although he played James Bond fantastically, true fans will remember him better as master sleuth Remington Steele. Pierce has also had memorable roles in Mrs. Doubtfire, The Thomas Crown Affair and After the Sunset, among many, many others.
Besides his film and TV work, pierce also does a lot of charitable work and environmental activism, and is truly an all around great man. Best of wishes Pierce!
Prev/Next
«
GoldenEye Voted #1 Film Based Video Game
Bond 23 In Production
»