Smith & Wesson Recalls Walther PPKs
Posted February 24th, 2009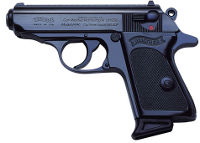 In a rather embarrassing turn of events, Smith & Wesson has sent out recall notices for Walther PPK's released between 2002 and 2009, due to a faulty hammer block that could enable the pistol to shoot without the trigger being pulled.
The Walther PPK was Bond's weapon of choice in almost every 007 film, and was also present in many of the novels from several different authors, including Ian Fleming, Raymond Benson, and Kingsley Amis, among others.
According to their report, the possibility exists in certain firearms that lowering the hammer may cause a chambered round to fire. Quite a scary thought, and quite ironic that their slogan is "Smith & Wesson stands for safety". At least they have the decency to recall them and replace affected items for free.
The official recall can be found online.
An excerpt follows:
The Springfield-based company said it was issuing the recall 'because any unintended discharge of a firearm has the potential for causing injury'.

The online notice and regulatory filing did not say whether any injuries had resulted, and it did not specify how many guns were being recalled. There was no answer after business hours Tuesday at the company's headquarters, and a call to a customer-service representative was referred to headquarters.

The filing said, 'While we have no reason to believe that the condition affects every pistol produced during the designated period, we have chosen in the interest of safety to replace the hammer block in every pistol that is returned in order to make certain that each firearm is functioning in a safe, reliable, and proper fashion,' the filing said.

The notice on the company's Web site says, 'When the manual safety is disengaged, Smith & Wesson's Product Engineering Group has determined that the possibility exists in certain firearms that lowering the hammer may cause a chambered round to fire.'
Prev/Next
«
The Girl Machine James Bond Comic Collection
Daniel Craig at the Oscars
»