1964 Aston Martin up for Auction
Posted February 26th, 2009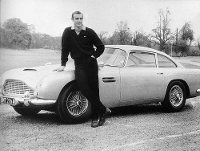 A 1964 Aston Martin DB5 is going up for auction online on March 12, and will run for 8 days. The car is identical to the model James Bond originally drove in Goldfinger, as well as the later appearances in Thunderball, Goldeneye, Tomorrow Never Dies and Casino Royale.
The DB5 was fully restored by Post Vintage Engineers Ltd in 2007, costing £105,000, and has a guide price at auction of £150,000 to £200,000, a value it will likely exceed. It is the same metallic silver grey that Bond had, and is one of only 1021 ever produced, originally costing just over 4000 at the end of 1963.
Jason Pinder of Eddisons said: "This is a stunning example of a truly great motor car which has been painstakingly returned to its former glory. Apart from its association with James Bond, it is a lasting example of timeless British car design. I am sure whoever the successful bidder is will be the envy of many a motorist."
Interested parties must pre register on the Eddisions website.
Update (Feb 28th): It turns out that the car isn't as identical as originally claimed. While it is a similar model, the interior is not black for a start, therefore not identical to the model used in the Bond films. Still a rare item, and worth the money though.
Prev/Next
«
Daniel Craig at the Oscars
U.S Navy Giving Away James Bond Stealth Ship
»