James Bond Location - Blades Private Club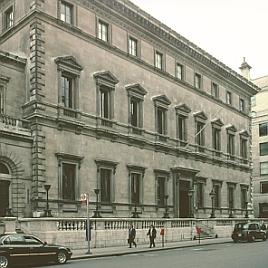 About
| | |
| --- | --- |
| Origin | 1776 |
| Location | Park Street, London, England. |
| Summary | Blades is a fictional private card club set in London, England. |
Image
The image on the left is of The Reform Club, a club that is somewhat similar to the fictional club Blades, and was used for part of the shooting of Gustav Graves' fencing club Blades in Die Another Day.
Table Of Contents
Introduction
Blades is the most exquisite private card club in London. It is a fictional club from Ian Fleming's novel Moonraker. The club has a huge gaming room, and a dining area that serves some of England's best food.
History
In 1774, a club named Scavoir Vivre was opened on Park Street, a quiet backwater off St. James Street in London, England. Within a year, the club went out of business and was closed down. In 1776, a new club was opened in the same location and was said to "surpass all its predecessors." This was the beginning of the club later named Blades. The name Blades first occurred in a letter sent by a historian named Gibbon who referred to the club by the first name of its German founder Longchamp. The club became a huge success and was known as the most exclusive club in London, if not all of England.
Dining Room
Occupying the majority of the ground floor at Blades is the magnificent white and gold regency dining room. In the center of the non-smoking room, there is a large table under an exquisite crystal chandelier. There are several rows of smaller tables each with a candelabra with three candles under red silk shades, and a white damask table cloth. They are surrounded by comfortable armed chairs and contain George IV silverware.
At the far end of the dining room a portrait of Mrs. Fitzherbert, wife of King George IV, is hung. Across from that hangs Fragonard's Jeu de Cartes, a broad piece filling half the wall above an Adam fireplace. Around the room there are several rare engravings of the Hell-Fire Club, showing figures making gestures related to magic. The elaborate coving has painted decorations and carved urns.
Food and Drink
Broad menu cards with Blades in gold lettering show the excellent selection of dishes served. Some of their finest food, eaten by Bond and M, includes:
Beluga Caviar
Smoked Salmon
Devilled Kidney
Lamb Cutlets
Along with the food comes a vast selection of fine drinks with an accompanying wine waiter. Some of the drinks ordered by Bond and M include:
Mouton Rothschild '34 (claret)
Dom Perignon '46 (The Chairman's favorite Champagne)
Brandy from one of the Rothschild Estates at Cognac (Blades had received a complimentary barrel every year)
Gambling Room
A wide staircase with a mahogany handrail leads up to the second floor of Blades where the famous gambling room is situated. It is a long room with a barreled ceiling and lavish carpeting. Three bay windows at the front of the building are dressed with opulent red curtains. There are many gaming tables illuminated by the soft glow of lights with dark red shades. Blades offers many types of gambling including:
Bridge
Backgammon
Piquet
A round poker table under a central chandelier hosts different variations of poker
A kidney shaped baccarat table hosts several variations of baccarat including Chemin-de-fer
At the end of the gambling room, the Lawrence of Beau Brammel hangs over a large fireplace. There are several gas-jets protruding from the walls, to light cigarettes or cigars. They were originally placed there before the invention of matches.
Membership and Benefits
Memberships at Blades are limited to 200 at any given time. To qualify as a member you must:
Behave like a gentleman
Be able to show £100,000 in cash
Win/Lose £500 per year OR pay an annual membership fee of £250
Here are some of the many benefits to becoming a member at Blades
Guest nights on Monday and Thursday
The club uses expensive Floris soaps and lotions
All newspapers are ironed before they are given to members
Members can stay overnight in one of the 12 bedrooms at the back of the club
Only newly minted money is given out, and members staying overnight can exchange all their money for new notes and coins
Members traveling abroad get automatic membership at the leading clubs of every foreign capital
No bills are ever presented for food or drink, the money is deducted from the profit of the winners at the end of each week (a small amount compared to the usually high winnings)
Members/Staff/Guests
There are 200 members at Blades, as well as staff and guests. Many MPs have membership. Known staff and members of the club include:
Staff Members
Lord Basildon - The chairman of Blades
Brevett - The porter, whose family has held the same post for over 100 years. He is a family friend of many of the members
Porterfield - Head steward at Blades
Grimley - Winewaiter at the club
Members/Guests
Sir Hugo Drax - A Millionaire who lost £15,000 when Bond was brought in to stop him from cheating
Max Meyer - Drax's gambling partner, most often his guest at Blades' guests nights (Monday and Thursday).
Tommy Dangerfield - Basildon's gambling partner at least once (partners sometimes change around)
M - Member of Blades
James Bond - Occasional guest to the club
Trivia
In the 2001 James Bond movie Die Another Day, Gustav Graves owns a fencing club called Blades