The Origins of Vesper Lynd
Written by David Leigh of The James Bond Dossier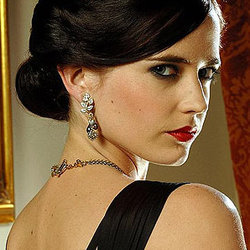 In addition to introducing the toughest James Bond yet, Casino Royale's popularity owes much of its success to Ian Fleming's original story, which it expands and brings right up to date. However, that isn't the only factor in its favour; it has a great script that plays with audience expectations ingrained over the last 40 years and features the best Bond girl for years.
In Eva Green's portrayal of Vesper Lynd it is easy to see why James Bond would fall for her dark, enigmatic beauty and when James Bond orders a very particular martini made with Gordon's gin, vodka and Kina Lillet it is little surprise that he eventually decides to name it after her. While this drink may have been a surprise to many casual Bond fans, diehard fans knew that this drink was exactly as it appeared in Ian Fleming's novel.
Like many things in Fleming's life, this had a very interesting origin and while at first glance it appears that he simply appropriated the name of a drink for his heroine and then named that drink after her in the book, the truth is rather more interesting.
First of all the drink; Fleming first came upon a cocktail called the "Vesper" while in Jamaica, where he spent each winter. He and a friend one day made a chance call on a retired colonel, who invited them in. They were offered a rum concoction called "Vespers", a name that they liked and named their own cocktail after; although I've seen no evidence that Fleming's Vesper was the same as in the book, it does seems likely that it was the same recipe. However, the reason for being attracted to the name may owe much to his career in Naval Intelligence during the war.
During World War II, Ian Fleming served with British Naval Intelligence, where he was the assistant to the Director of Naval Intelligence and therefore privy to the inside workings of the war machine at the very highest level. One idea of Fleming's that was put into practice was something he learned from the Germans in Crete. It entailed sending a small team of commandos with the advance troops to capture documents, ciphers and other materials and information ahead of the main assault. The result of this was the creation of 30 AU - Assault Unit - which he called his "Red Indians", who were involved in the liberation of Paris and the invasion of Germany; they were tasked with retrieving high value intelligence assets such as papers, codebooks and the contents of safes.
It was as a Naval Intelligence Officer that Fleming first met Christine Granville, who was a noted British intelligence asset behind the lines in occupied Poland and France and, according to some reports, he conducted a brief affair with her. Granville was born Krystyna Skarbek in Poland and worked for the Special Operations Executive (SOE) during the Second World War. According to Henry Chancellor in "James Bond: the man and his world", Granville was known as "Vesperale".
Granville was one of Britain's longest-serving women agents during the war and helped organize a Polish courier network to bring intelligence reports from Warsaw to Budapest. However, she was forced to flee after escaping Gestapo arrest in 1941, only to arrive in Egypt and find herself under suspicion by the British.
After eventually clearing her name she was offered to the SOE in France, due to her perfect command of French, operating under the name "Christine Granville".
After the war Fleming left the intelligence world behind and instead became a respected newspaperman, working as the foreign manager for the Sunday Times in London. Part of his role was to run a network of reporters, similar to how he had run agents during the war, and indeed, many of these reporters also worked for MI6.
One of Fleming's conditions for taking on the role was a two-month vacation each winter, when he would take off for Jamaica, where he had bought property and constructed a house. His house - which he named "Goldeneye, after one of his wartime operations - featured a basic design, with no glass in the windows to allow it to be cooled by the tropical breezes, but benefited from a private beach where Fleming would swim and snorkel every morning.
It was there, in 1952 and on the verge of marriage, that he sat down and started typing Casino Royale, the first James Bond book. Drawing upon his experiences during the war as inspiration, modelled his heroine on Christine Granville, shortening " Vésperale" to plain Vesper and thereby tying it to the now famous drink.
While the film version of Casino Royale does follow Fleming's first book quite closely, although expands upon the plot quite considerably and slightly changes Vesper's role. In the book she is sent to assist Bond, rather than watch over his funds as in the film, and has a Polish lover held by the Russians; in the film the Algerian love knot worn by her was supposedly a gift from her Algerian lover.
About the Author
David Leigh has been following the literary and cinematic exploits of 007 since when he was eight years old. Now living in Barcelona, he runs The James Bond Dossier, a popular 007 website, as well as publishing a monthly email newsletter.