Join Our Team
About us
007James was founded in 2004, and has since grown into a repository of hundreds of articles, viewed by thousands of people every day, from all over the world. In November 2012, we had over 1/3 million visitors from 184 countries.
Write Articles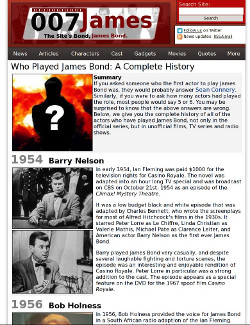 Write articles on any aspect of James Bond:

Skyfall
Literary Bond
Retrospectives
Opinion
Gadgets
Characters
...

Write an occasional article, or become a regular editor. Whatever suits you.
Get your name or mini-bio on every article
Get in Touch
If you're interested in joining our team, please get in touch to discuss what you would like to contribute to 007james.