List of All James Bond Movies
The complete list of official James Bond films, made by EON Productions. Beginning with Sean Connery, and going through George Lazenby, Roger Moore, Timothy Dalton, Pierce Brosnan and Daniel Craig. Have you ever wondered how many James Bond movies there are? The new film, Spectre, will be released October 2015.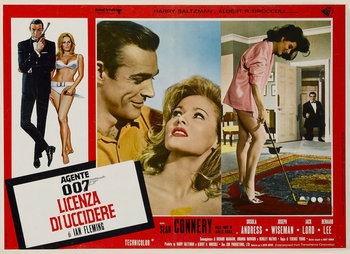 Synopsis:
Dr. No was the first 007 film produced by EON Productions. Bond is sent to Jamaica to investigate the death of MI6 agent John Strangways. He finds his way to Crab Key island, where the mysterious Dr. No awaits.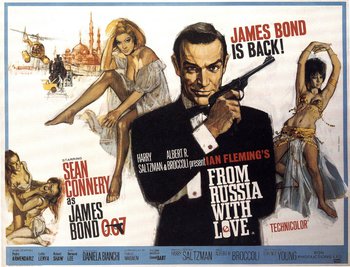 Synopsis:
When MI6 gets a chance to get their hands on a Lektor decoder, Bond is sent to Turkey to seduce the beautiful Tatiana, and bring back the machine. With the help of Kerim Bey, Bond escapes on the Orient Express, but might not make it off alive.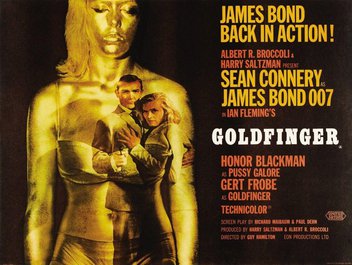 Synopsis:
The Bank of England has detected an unauthorized leakage of gold from the country, and Bond is sent to investigate. The suspect is one Auric Goldfinger, the richest man in the country. Bond catches Goldfinger cheating at cards, with the assistance of Jill Masterson, who is killed and painted gold in revenge. Bond must foil his plots, while avoiding the deadly Korean, Oddjob.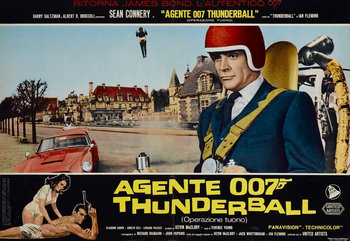 Synopsis:
Emilio Largo, the Number 2 at SPECTRE, has stolen two nuclear warheads. He threatens to destroy a city in the United States and England unless a large ransom is paid. Bond is sent to the Bahamas to investigate.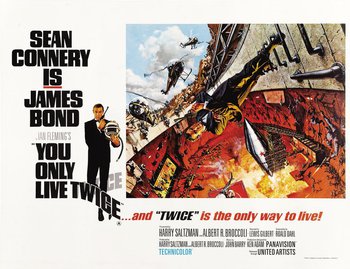 | | |
| --- | --- |
| James Bond: | Sean Connery |
| Bond Girl: | Aki |
| Director: | Lewis Gilbert |
| Running Time: | 117 Minutes |
Synopsis:
Ernst Stavro Blofeld is hijacking American and Russian space shuttles, in an attempt to start a war between the two nations. Bond is sent to Japan to investigate, with the help of Tiger Tanaka, the head of station in Tokyo. Armed with over 100 trained ninjas, Bond infiltrates Blofeld's volcano lair.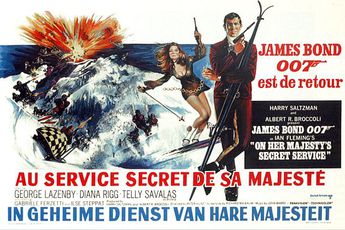 | | |
| --- | --- |
| James Bond: | George Lazenby |
| Bond Girl: | Tracy Di Vicenzo |
| Director: | Peter Hunt |
| Running Time: | 140 Minutes |
Synopsis:
Bond rescues the suicidal Tracy Di Vicenzo, and is brought at gunpoint to meet her father, Marc-Ange Draco, the head of one of the largest criminal organization in Europe. Draco strikes a deal with Bond, agreeing to reveal the location of Blofeld, if Bond will look after his daughter.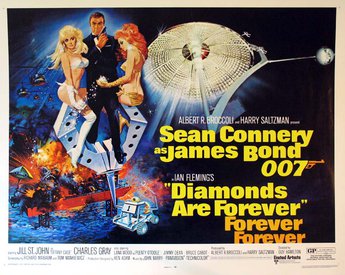 Synopsis:
Sean Connery is back for a fast paced hunt through a diamond smuggling pipeline. MI6 arrests small time smuggler Peter Franks, and Bond takes his place, meeting courier Tiffany Case. He follow the trail of the diamonds, as everyone who touches them gets killed. The end of the pipeline is Blofeld, with another plan for World Domination.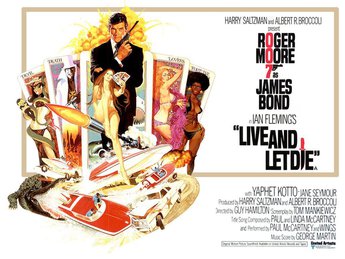 | | |
| --- | --- |
| James Bond: | Roger Moore |
| Bond Girl: | Solitaire |
| Director: | Guy Hamilton |
| Running Time: | 121 Minutes |
Synopsis:
Several British agents are killed in a short period of time, during routine surveillance of dictator Dr. Kananga. Bond is sent to New York to investigate, and falls into a trap of gangster Mr. Big, thanks to his psychic tarot card reader, Solitaire.